Take It All Away
For some reason, I felt like the new song related a lot to Adam's blog post from way back over a year ago…maybe I'm way off, but I still thought it was interesting…
I Hate Goodbyes
Last week I said goodbye to someone I care about.
It wasn't "goodbye forever" per se, but that didn't matter because this was the sort of goodbye that produces dull, persistent, throbbing heartache, the kind that takes a long time to heal. It was the close of a long chapter of life, the kind of conclusion that keeps you awake for days, pacing the house with the lights out and the phone off. This particular sad farewell left a hole in my chest and a bittersweet taste in my mouth, as saying goodbye has a way of doing. It tasted like past romance, a bouquet of indelible memories laced with lost love and confused emotions, the flowery passion and affection of two starry-eyed dreamers, tangled up in the ribbons of a faded fairy tale.
Sappy and dramatic, yes?
Why is it — the faster you attempt to heal from something painful, the more frequently it tends to haunt you? When will the ghosts under the stairs give up and go home? Why can't I give them five bucks and the car keys and tell them to take the night off? If anyone knows the answer to these questions, please call me and we'll discuss the whole thing over bowls of crunchy diamonds drenched in skim milk.
She stopped by my house last Monday night at 10:30 pm. Everything seemed to happen in slow-motion, yet it all happened so fast, I barely had time to think. A hundred trains of thought raced through my heart but my brain did nothing but turn over like a cold engine in January. I couldn't find the right words, I couldn't form complete sentences, I tried desperately but speech seemed ineffective and useless, like trying to carve a stone sculpture with a toothbrush. All I could do was stare into those eyes I know so well.
We stood in the driveway, uncertain, unconfident, communicating more with eyes and body language than with words. Everything about her was beautiful. Her perfume was intoxicating. And then I stepped forward and hugged her for the last time… and I'd be a total liar if I said I wanted to let go. But I knew I had to.
Perhaps THAT, dear friends, is the hardest part of saying goodbye to someone; knowing you MUST move on even though every fiber of your being screams at you to obey your instincts to cling for dear life. Maybe that's why the mountaineer must grit his teeth, dig in his claws and continue the climb, no matter the cost, no matter the odds, no matter the price. Every aching muscle screams at him to give up and go home but he MUST be strong, resilient, resolved and steadfast. It's funny how the word "integrity" means nothing until you stare Anguish in the face and tell her sister Agony to beat it.
I stood on the steps like a stranger as I watched her walk to the car, back out the driveway, pull away down the street and disappear into the night.
And let me tell you this:
Letting go of that girl made a mountain climber out of me, because saying goodbye was my Everest.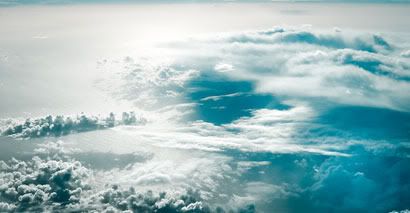 However, despite such odds, the summit has been reached. Saying goodbye to this girl was one of the hardest things I've ever done in my life… but of course, it goes without saying that my strength is not my own, for I've been given far more grace than I deserve. Despite such a daunting task, I rest assured because I know I am not climbing alone, and that's a heartening thought. The inescapable issue is the fact that I'll never be able to listen to Remember To Breathe by Dashboard Confessional again without thinking about her. I suppose I can live with that.
You've got mountains of your own, I'll bet on it. Take heart. Be encouraged. Remain steadfast. Hang on for dear life. You've got a better grip than you realize.
Dealing with break-ups is difficult, but thankfully it helps when things are put into perspective.
"For this reason I kneel before the Father, from whom every family in heaven and on earth derives its name. I pray that out of his glorious riches he may strengthen you with power through his Spirit in your inner being, so that Christ may dwell in your hearts through faith. And I pray that you, being rooted and established in love, may have power, together with all the Lord's holy people, to grasp how wide and long and high and deep is the love of Christ, and to know this love that surpasses knowledge—that you may be filled to the measure of all the fullness of God. Now to him who is able to do immeasurably more than all we ask or imagine, according to his power that is at work within us, to him be glory in the church and in Christ Jesus throughout all generations, for ever and ever! Amen."
Ephesians 3:14-21